Black Joke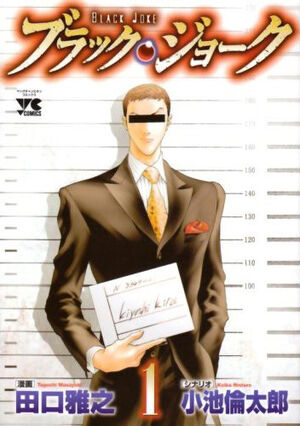 Information
Title:
Black Joke (ブラック・ジョーク, Burakku Jōku)
Author:

KOIKE Rintarou

(Story) &

TAGUCHI Masayuki

(Art)
Original Run:
February 2, 2008 – Ongoing
Published by:
Young Champion (Akita Shoten)
Young Champion Retsu (Akita Shoten)
Volumes:
8+ (57+ Chapters)
Genre:
Action / Comedy / Martial Arts / Mature / Seinen
Black Joke (ブラック・ジョーク, Burakku Jōku) is a Japanese manga series written KOIKE Rintarou and illustrated by TAGUCHI Masayuki.
History
[
]
Black Joke started in February 2008 in Issue 2008-5 of Young Champion, though being published in biweekly magazine (published once every two weeks), the manga was published as a monthly series. The manga continued until Issue 2011-7 (March 2011), where it was moved to the monthly magazine Young Champion Retsu and continued in May 2011 from Issue 2011-6 and is still being published.
Plot
[
]
Japan is now the 51st state of the U.S.A.. The isle of Neon, located near Japan, is the only place where prostitution and gambling are legal. There, Italian Mafia, Chinese Triad and Yakuza fight each other to gain the control of casinos and brothels.
Manga Guide
[
]
Volumes
[
]
#
Release date
Volume
1
September 19, 2008
Volume 1

Cover Characters:

List of Chapters:

2
April 20, 2009
Volume 2

Cover Characters:

List of chapters:

Chapter 11

Chapter 12

Chapter 13

3
December 18, 2009
Volume 3

Cover Characters:

List of Chapters

Chapter 14

Chapter 15

Chapter 16

Chapter 17

Chapter 18

Chapter 19

4
June 18, 2011
Volume 4

Cover Characters:

List of Chapters

Chapter 20

Chapter 21

Chapter 22

Chapter 23

Chapter 24

Chapter 25

Side Story: Kaoru

5
March 19, 2011
Volume 5

Cover Characters:

List of Chapters

Chapter 26

Chapter 27

Chapter 28

Chapter 30

Chapter 31

6
November 18, 2011
Volume 6

Cover Characters:

List of Chapters

Chapter 32

Chapter 33

Chapter 34

Chapter 35

Chapter 36

7
June 20, 2012
Volume 7

Cover Characters:

List of Chapters

Chapter 38

Chapter 39

Chapter 40

Chapter 41

Chapter 42

Chapter 43

Chapter 44

8
April 19, 2013
Volume 8

Cover Characters:

List of Chapters

9
April 20, 2014
Volume 9

Cover Characters:

List of Chapters

Chapter 52

Chapter 53

Chapter 54

Chapter 55

Chapter 56

Chapter 57

Chapter 58

Chapter 59

10
July 20, 2020

Volume 10

Cover Characters:

List of Chapters

Chapter 60

Chapter 61

Chapter 62

Chapter 63

Chapter 64

Chapter 65

Chapter 66

Chapter 67

Chapter 68
Chapters not yet in tankōbon format
[
]